Product Retirement Notice - PPRN-003 N110DR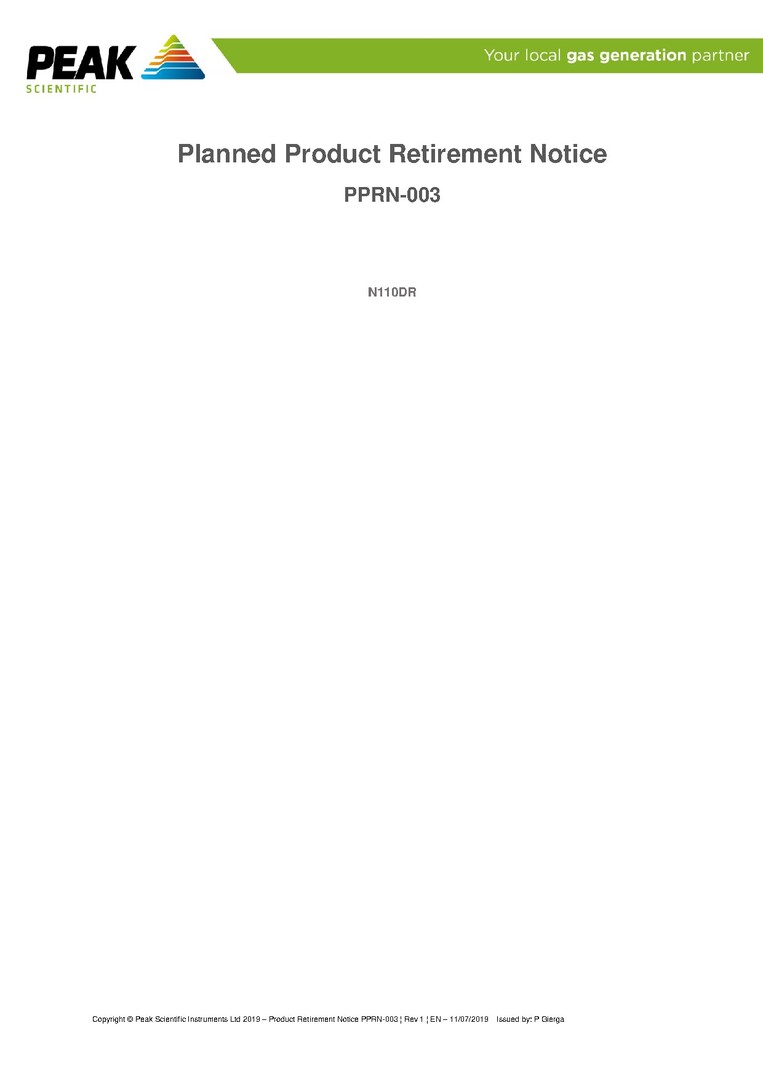 Contributed by
Mira Dobreva
Updated date
15 February 21
Review date
08 February 23
Title
Product Retirement Notice - PPRN-003 N110DR
Revision Details
Initial Upload
Keywords
N110DR, retirement, product retirement
Company Brand
Peak Scientific
Scope
The purpose of this document is to serve notice of the planned retirement of a product and, where
applicable, advise of any new or alternative models that replace the retired products.
Product(s) Affected by Planned Retirement Notice
The following product(s) are affected by this notice. Where applicable, the replacement models and
replacement part numbers are shown.
Part No Model Fully supported until Replacement Model Part No
10-1006
10-1006-1
10-1006-1R
10-3006
10-3006-1
N110DR Dec 2019 Genius XE 35 - 230V
Genius XE 35 - 120V
3300252
3300807
Service and Support
Peak Scientific will provide full support until the date shown. Peak Protected Service Plans are available
with end dates not exceeding 31st Dec. 2019, thereafter Peak Scientific will endeavor to support products
on a 'best efforts' basis, depending on the availability of spare parts.
Extracted text
Planned Product Retirement Notice
PPRN-003

N110DR

Copyright © Peak Scientific Instruments Ltd 2019 – Product Retirement Notice PPRN-003 ¦ Rev 1 ¦ EN – 11/07/2019

Issued by: P Gierga

Scope
The purpose of this document is to serve notice of the planned retirement of a product and, where
applicable, advise of any new or alternative models that replace the retired products.

Product(s) Affected by Planned Retirement Notice
The following product(s) are affected by this notice. Where applicable, the replacement models and
replacement part numbers are shown.

Part No

Model

Fully supported until

Replacement Model

Part No

10-1006

N110DR

Dec 2019

Genius XE 35 - 230V

3300252

Genius XE 35 - 120V

3300807

10-1006-1
10-1006-1R
10-3006
10-3006-1

Service and Support
Peak Scientific will provide full support until the date shown. Peak Protected Service Plans are available
with end dates not exceeding 31st Dec. 2019, thereafter Peak Scientific will endeavor to support products
on a 'best efforts' basis, depending on the availability of spare parts.

Please contact your Peak Scientific Account Manager if you require further information.

Copyright © Peak Scientific Instruments Ltd 2019 – Product Retirement Notice PPRN-003 ¦ Rev 1 ¦ EN – 11/07/2019

Issued by: P Gierga


Search for similar resources